Pulsar 3.6 Pro Competition Glider
Pulsar 3.6 Pro Competition Glider
Product Videos
Pulsar 3.6E F5J beach flight

Product Description

Wingspan:
143" (3630mm)

Length:
68" (1730mm)

Weight:
65-69 oz. (1850-1950g)

Channels:
4,6

Good:
MVVS 4.6/840, 15x8 folding
Better:
Race 2014/5100 6.7:1, 16x8 folding
TP2700 3S
38mm spinner
The Pulsar 3.6E Pro is the latest addition to the ever-growing Pulsar family of hand-made electric s ailplanes. Built at our request, this model is the competition version of the 3.6m Pulsar. The Pulsar 3.6 models use the AG25 modified airfoil designed by Dr. Mark Drela specifically for 3m and larger thermal duration planes. Just like its smaller cousins, the entire model is constructed using free-flight techniques. The wing is a balsa built-up Carbon Fiber and Kevlar D-box design that utilizes carbon fiber faced balsa ribs and carbon fiber trailing edge. The open section of the wing, as well as the tail parts, are covered with UltraCote. The fuselage is made of white gel-coated 2.4GHz friendly fiberglass/Kevlar with carbon fiber tapered boom and removable carbon fiber canopy. The three piece wing with little bit of dihedral on the central panel and 2-piece conventional tail a re each easily removable for transport and storage. The rudder as well as elevator servos install in the vertical fin. The careful use of composites, combined with an underlying wood structure in the wing, ensures a good light structure that will hold its shape for a long time. This is an extremely light, high performance model.
Virtually perfect, very well made and extremely clean. One of the most advanced addition to the ever-growing Pulsar family of hand-made electric sailplanes.
Special Features:
- Control Surfaces: Ailerons, Elevator, Rudder and Flaps
-
Kevlar 2.4GHz friendly fuselage with extended nose
- Tight covering, with all seams hand-sealed
- Elegant gel-coated white fiberglass/Kevlar fuselage with CF tapered boom
- Highly efficient pylon mounted wing
- Ready-built Balsa/CF/Kevlar D-tube 3-piece PLUG-IN wing design
- Transparent Ultracote covered wings and tail parts
- Includes all necessary hardware
- Virtually perfect, extremely clean and well made
More Information (links):
* Building Pictures and Details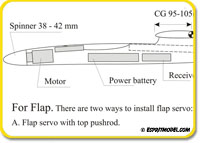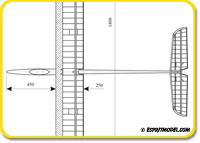 Airfoil
Wing area
Wing loading
Empty weight
: AG 25
: 1250 sq.in. (80.5 sg.dm)
: 7.5-8 oz/sq.ft. (23-24 g/sg.dm)
: 37 oz. (1050g)