Jeti Electronic Switch Dual w/ Magnetic Key DPS 40
Jeti Electronic Switch Dual w/ Magnetic Key DPS 40
Product Description
Jeti Electronic Switch
Model
DPS 40
Operating Voltage
3.5-14V
Max Voltage
16V
Max Power
560W
Max Amp
20A Continues/40A Peak
Weight
31g
Dimensions
46mm x 24mm x 6.5mm
The Dual DPS40 from Jeti is a dual pole electronic switch with two inputs/outputs operated with the included magnetic key. The advantage of an electronic switch is that it offers a virtual unlimited on/off cycle, unlike mechanically operated switches. DSP40

For the first time ever, your models receiver system can be turned ON/OFF with a simple flip of the switch, wirelessly from the Jeti DC/DS transmitters. The R3/RSW receiver fully replaces Jetis Magnetic Switch which is widely used with Jeti Voltage Regulators as well as their Electronic Switches. Simply cut off the existing switch, install a Male JR type connector and plug it to the #3 port of the R3/RSW receiver.

The DPS 40 is designed for 3.5-14V input and supports up to 20A continuous current or 40A burst current for your connected devices. This unit is most suitable for today's high-voltage servos, which you might be operating directly from a two-cell LiFe battery or similar Li-Poly battery pack. Please note that DPS 40 does not include a regulator. Output voltage is equal to input voltage. The output current is divided between the two sets of output wires, where each output supports a maximum of 10A continuous or 20A burst current.

The unit features one set of input wires for your battery connection and two sets of output wires fitted with JR connectors to connect to your receiver or other device. The magnetic key/wand and faceplate are also included.

The faceplate contains an integrated LED to indicate the on/off status of the switch. Should the battery become disconnected, the unit remembers its on/off state i.e. if the unit is switched on and the battery is disconnected, the unit will remain on when the battery is reconnected.
Clean Installation Using (2) LiFe Receiver Packs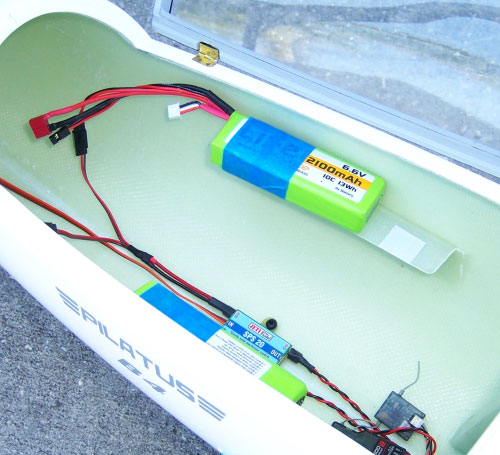 System and Electronic Switch OFF



System ON, Indicated with Bright LED



Clean Scale Installation, No Hole Needed



LED Light Turned ON Clearly Visible Through White Fiberglass

YOU MIGHT LIKE THESE